Hello lovelies! Have you met Donna from the Midlife Farmwife blog? I love reading her blog for she covers such wide ranging topics as raw milk, saponification Sundays and insightful glimpses in the life of a farmer on a certified organic dairy, beef and swine farm in Illinois USA.
(which is for sale if you would like to buy it - have a look HERE)
Donna most generously agreed to a soap swap with me recently and promptly sent me three lovely bars of saponifed goodness, together with a beautifully embroidered handkerchief from her collection. I say 'promptly' as I hadn't even posted my parcel to her! I was waiting on a soap to cure ~ that's my excuse and I am sticking to it :p
I was surprised when several days later another parcel turned up from Donna.... I thought "oh my goodness, she has forgotten she already sent me one and did it again!" Yes, I know, not. very. likely.
Imagine my delight when I opened the second parcel to see this ~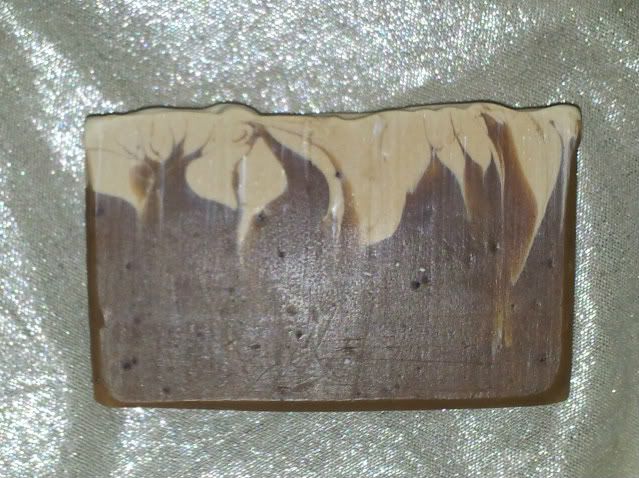 What gorgeous, rich colours and smelling of all things spicy and warm... mmmm. Donna tells you all about its creation in this blog POST.
Okay, here are all the lovely soaps she was kind enough to share with me (click on the pic so you can see them better)...
From top to bottom ~ the cute tree shape is Eucalyptus soap and smells so refreshing; Peppermint Polly, Cinnamon Coffee Cake and Once In a Green Moon (don't you love that name?).
Here they are labelled (I tore the wrapper of the tree one so it didn't get a pic) and my apologies if it is still viewing sideways when you read this. For some reason it looks perfectly fine in my photobucket account, but not here? ~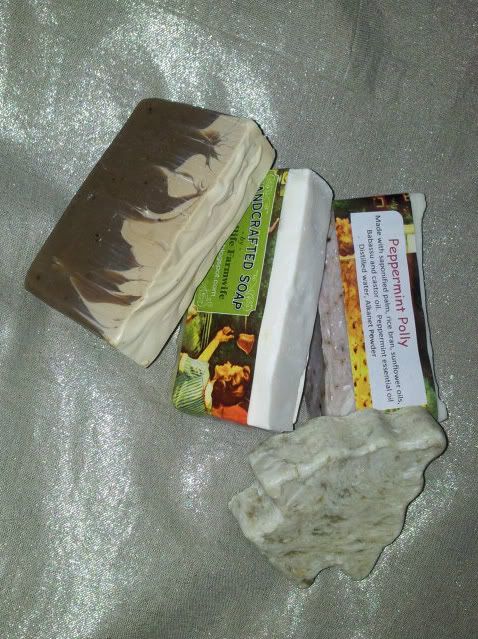 And now I want to share how lovely these all are to use. Donna puts much thought into the creation of each of her soaps
and it shows
, even if she then tends to multitask while she is actually making them... lol.
The first one that just begged me to try it was Once In a Green Moon. I love the soft green tones and crisply white topping. Its scent is fresh and bright with essential oils of Clary Sage and Eucalyptus and it has been coloured with wheat grass powder. That is definitely going on my list of natural colourants to use in the near future. I love the embedded 'moons' too.
After that Peppermint Polly was grabbed greedily ~ such pretty pink tones! ~ and smelling sweetly with nicely balanced, light mint. The Eucalyptus tree shape followed with its fresh and uplifting scent and mottled green patterns.
All of these soaps create abundant lather from the very first few turns on my washcloth, building very quickly into thick, creamy lather with a very silken feel that lasts all shower long and then some. The lathers of Green Moon and the Eucalyptus tree feel very soft and almost slippery on my skin and Peppermint Polly also is very soft with a silky feel. I haven't yet used the Coffee Cake soap as it is just nearing its curing time (I like to try a soap after it has reached four weeks of age). It will be a special treat for my very next shower! Oh, and here is one more pic because I am very happy with it ~