In Australia Mothers Day is the second Sunday in May and I have been creating lovely, feminine soaps - some old, some new - to celebrate.
Sweetpea Delight has a new colour palette and a re-worked recipe.
I previously used rice bran oil in this, however that oil tends to accelerate trace in my soap and together with a floral fragrance oil I found myself portraying a 'crazy soaping lady' every time I made it....lol. A soaping friend recommended soybean oil to me and once I tried it I fell in love! I now use a blend of olive, coconut and soybean oils with shea butter for my floral soap range. Rice bran oil is amazing in soap and body care so I use it in practically everything else I make still. I use one of my very favourite fragrance oils from Bramble Berry, Sweet Pea, in this soap as it truly reminds me of all that a Mother is. In Australia I source my Bramble Berry high quality fragrance oils from Jude and Dave at Aussie Soap Supplies.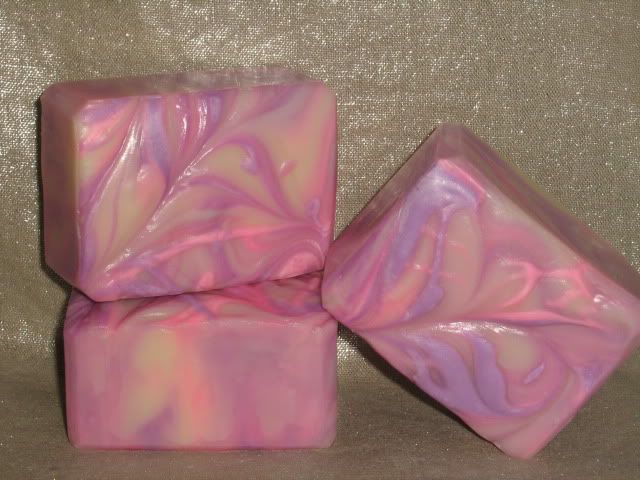 Here is a new soap created for Mothers Day that will become part of my current range - Rice Flower & Shea. I love the soft, powdery and buttery scent of this gorgeous fragrance oil and although it does slightly darken during cure (the creamy coloured top layer is perhaps one shade richer cream now) it looks wonderful with the lilac base layer and sparkly glitter on top.
'Opulence' is my buttermilk and shea recipe given a new look. With that gorgeous gold glitter on top I couldn't call it anything else! The scent I used in this soap has a rich almond scent with notes of cherry and buttermilk. I plan on making this recipe in a few scent selections so I would love suggestions on what fragrance or essential oils you think would suit the rich look of this gorgeous soap *smile*